Helicopter Ride Over the Falls
Experience the power and beauty of Niagara Falls like never before with our Helicopter Ride Over the Falls 12 - 14 minutes tour. This incredible tour takes you on an unforgettable journey above the Falls, providing you with breathtaking views of one of the world's natural wonders.
Our experienced and knowledgeable pilots will guide you on a 12 - 14 minutes tour that covers all of the must-see sights, including the American Falls, Horseshoe Falls, and the Niagara River. You'll get a bird's-eye view of the surrounding area and witness the power of the Falls from a whole new perspective.
Upon booking, we will provide you with your ticket to the Helicopter ride as well as a deliver service to and from your hotel.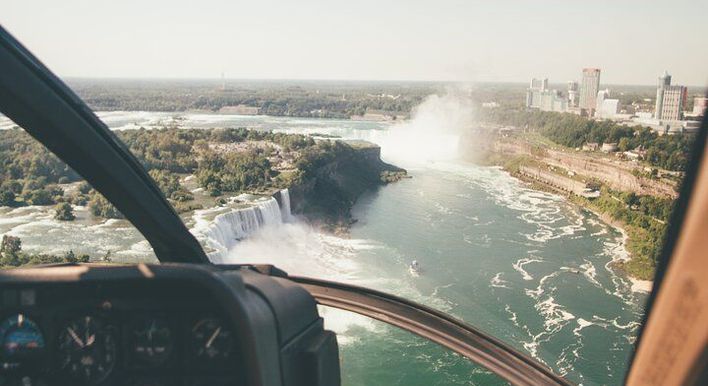 This tour is thrilling from beginning to end. Start off with your personal guide picking you up from your hotel and escorting you to the world-famous Maid of the Mist boat ride where you will sail right by all three of the waterfalls - the Canadian Falls, Bridal Veil Falls, and the American Falls. After this, you will be treated to a luxury 3-course meal with variety and options for all. After dinner, the excitement continues with an unbelievably beautiful and exciting 12-minute helicopter ride over the falls. As if this wasn't breathtaking enough, you will then enjoy spectacular illumination lights and fireworks display over the falls. All the while, your guide will be providing fun, informative, and interesting information. You will then be escorted to your hotel.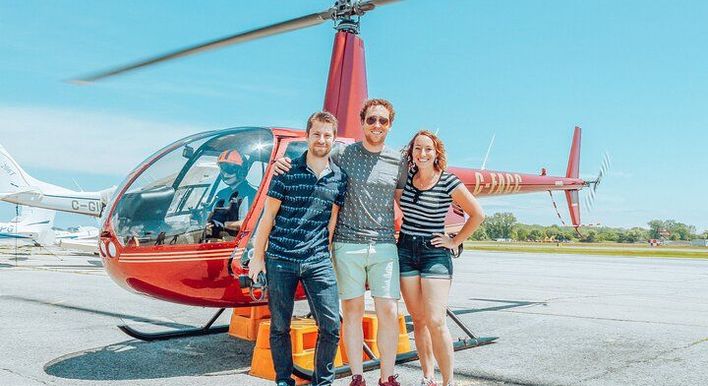 Enjoy this luxury yet affordable tour which includes a one-of-a-kind helicopter tour over the falls, followed by a beautiful and scenic boat ride on the world-famous Maid of the Mist boat which gets up close to all the waterfalls. You will also be showered under 60,000 gallons of water on the hurricane deck at the Cave of the Winds experience! An experienced and knowledgeable guide will then take you to the best viewing spots in Niagara Falls State Park while providing you with fun and informative information. To top it all off you will be treated to a delicious three course meal.